Related Minors in Political Science
We offer several options for minors, including a Minor in Political Science, Leadership Studies, International Relations, Security Studies, and Public Administration
---
Political Science
A minor in Political Science exposes students to a wide array of interesting political topics. Minors take introductory courses in American politics, comparative politics, and international relations, and then have the choice of five elective courses in any area of political science they choose.
View catalog for Political Science.
Comparative Government and International Relations
A minor in Comparative Government and International Relations allows students to explore the dynamics of politics around the world. Students take introductory courses on comparative politics and international relations and then have the choice of six additional courses, which include topics such as Middle Eastern politics, international law, war, terrorism, and European and African politics.
View catalog for Comparative Government and International Relations
Public Administration
A minor in public administration introduces students to how government operates and what government does. Students enroll in introductory courses in public policy and public administration and then go on choose five courses from Political Science, Geography, Planning, and Psychology. Many students who complete the minor in public administration go on to enroll in the Master of Public Administration program and become professional administrators working in federal, state, or local government.
View catalog for Public Administration
Security Studies
The Security Studies Minor allows students to combine classes from 11 different departments and develop a more comprehensive view of security-related issues. The goal of the program is to develop new understanding of existing and emerging threats and coordinated response between different agencies and levels of government.
View catalog for Security Studies
Leadership Studies
The leadership studies minor is a multidisciplinary program designed to provide opportunities to study leaders and leadership concepts that are applicable to leadership in a variety of contexts. The leadership studies minor complements any academic major and provides formal learning experiences that can be supplemented by additional campus and community leadership experiences as part of the leadership development process.
View catalog for Leadership Studies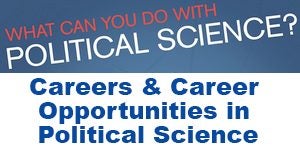 While thinking about your interests and career objectives, your major or minor, please feel free to email us at politicalscience@ecu.edu with any questions about how our programs might fit your needs.
Or, Contact:
Dr. Jody Baumgartner, Undergraduate Director
Brewster A-114
252-328-2843
baumgartnerjo@ecu.edu