The Discipline of Political Science & Career Opportunities
Why Political Science?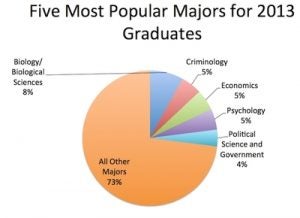 Political science is a broad and inclusive discipline. Some political scientists want to understand the political behavior of individuals – or why they act the way that they do. Others study institutions such as legislatures, courts, and bureaucracies. Still others examine the causes of war (and peace), foreign political systems, and how the public sector really works.
This list does not exhaust the specialties and areas of interest included in this diverse discipline. Amid this diversity lies a common concern with anything "political," including issues, political institutions and behavior, power, and public goods. All political scientists are concerned in one way or another with promoting the goal of understanding politics.
Political science is the only major where you can obtain practical knowledge and at the same time gain insights into the great issues of our age.
What, for example, are the causes and institutional forces behind a conflict between the President and leaders of congress? If nations are threatening armed confrontation, what lies behind the conflict? What is the individual's place in the political system? With a degree in political science you will be able to answer these and many other politically oriented questions. The knowledge and critical skills gained from the study of politics will enable you to be a more informed and rational citizen, a more constructive participant in public affairs, and a better professional. Political science is actually one of the more popular majors for university students.
---
What About Career Opportunities & Earning Potential?
With a degree in political science your career prospects are extremely bright. A student who majors in political science acquires skills in writing, communications, and analysis that are critical to a liberal arts education. This prepares you for a variety of careers by emphasizing the acquisition of skills in communication and analysis; and by encouraging independent thought, tolerance, and informed interest in current affairs. The ability to define a problem and contribute to its solution is highly valued in a variety of employment settings, as are skills in writing, research, and evaluation. These are the very elements that characterize a liberal arts education.
Finally, as a political science major you can expect a reasonably bright future with regard to earning potential. While not at the top of the list of highest earning majors, political science ranks above the median in this regard.
---
Careers With a Political Science Degree
Today's graduate can expect to change jobs a number of times, and even to have more than one career, and political science is excellent preparation for the flexibility required in this modern employment market. The most obvious career paths for someone with a political science degree are in law, government, political consultancy, and lobbying. In addition, political science helps with many private sector careers, because government affects so many activities, and the analytical and communication skills acquired with a political science degree are highly valued by virtually all employers.
More specifically, the study of political science provides background for careers in government at the local, state, and national levels; in international organizations; political campaigns; interest groups and lobbying organizations; journalism; business; and law.
Below are data showing the wide variety of career tracks that political science majors have taken over the years and a description of several career tracks a political science major might take.
---
Need More Help Deciding?
This may help: Frequently Asked Questions About a Political Science Major. If not, PLEASE email us at politicalscience@ecu.edu if you would like to discuss a possible future in political science.
In addition, the ECU Career Center provides help in career exploration, planning, and decision making for students and alumni. It has both online and one-on-one counseling and other services (help with resumes, cover letters, job searches, and applying to graduate school) to promote your success. For more information visit Career Services.