Dr. Armin Krishnan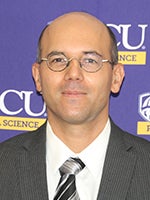 Title:
Security Studies Director, Assistant Professor, Ph.D. (Salford University, UK)
Office:
Brewster A-119
Office Phone:
(252) 328-6156
Fax:
(252) 328-4134
Email Address:
krishnanA@ecu.edu
Teaching Areas:
Security Studies, International Relations, American Foreign Policy, Intelligence Studies
Research Interests:
Privatization and outsourcing in the national security sector, military robotics and military ethics, targeted killings, shadow wars and US covert action, government secrecy
---
Armin Krishnan is an Assistant Professor and Director of the Security Studies Program at East Carolina University. He has previously taught intelligence courses as a Visiting Assistant Professor in the National Security Program at the University of Texas at El Paso and held research associate positions at the University of Southampton and Salford University.
He has academic degrees in political science, intelligence studies, and security studies from the University of Munich and Salford University, UK. His research has focused on novel aspects of contemporary warfare, including the privatization and outsourcing of military services, the ethics of military robotics, targeted killing and drone warfare, and military neuroscience. His most recent book is on Why Paramilitary Operations Fail published by Palgrave Macmillan in 2018.
Dr. Krishnan's Online Materials
Curriculum Vitae
Syllabus POLS 6080: American Foreign Relations