Dr. Patrice Alexander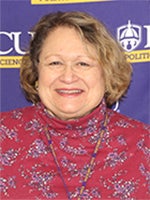 Title: Teaching Assistant Professor, Ph.D. (N.C. State)
Office: Brewster A-103 A
Office Phone: (252) 328-1065
Fax: (252) 328-4134
Email Address: alexanderp14@ecu.edu
Teaching Areas: Leadership, Public Administration, Human Resources
Research Interests: Leadership, Organizational Development, Human Resources Policies, Practices, & Laws/Regulations
---
Patrice Alexander has a BFA, Drama/Design, Carnegie-Mellon University, a MPA, Public Administration with a concentration in Community Health, East Carolina University and a PhD in Psychology/Human Resource Development, NC State University.
She is trained in clinical supervision, mediation resolution, team-building, re-motivation group therapy, and critical incident stress debriefing/management. She is a Licensed Professional Counselor (LPC), a Licensed and Certified Employee Assistance Professional (LEAP/CEAP) and has Senior Human Resources Professional Certification (SPHR). Her past experience includes Human Resources Director for Greenville Utilities Commission; Plant Human Resources Manager, Sara Lee Bakery; Regional Human Resources Manager, International Paper in Wooster, Ohio; Employee Relations Manager, Champion International/International Paper, Roanoke Rapids, NC; and Employee Assistance Program/Community Education Coordinator, Pitt County Mental Health Center.
She is currently an Assistant Teaching Professor at East Carolina University where she teaches classes in Leadership, Public Administration and Political Science. She serves as the Chair of the ECU MPA Advisory Council, and on the Boards of ReLeaf, and the NC Coastal Society of Human Resource Management. She has served as the Legislative Chair of North Carolina Employee Assistance Professionals (EAPA) and as the Chair of the International EAPA Legislative and Public Policy Committee. She served four years as Chair of the North Carolina Substance Abuse Federation. Dr. Alexander is a past state president of the North Carolina Federation of Business and Professional Women (BPW) and served two terms on the BPW/USA Board of Directors. Additionally, she is a past member of Board of Directors of the Greenville Noon Rotary Club, and the Washington Montessori Public Charter School.