Bachelor of Arts: International Studies
The Bachelor of Arts in International Studies is a Multidisciplinary Studies degree housed in the Department of Political Science. Students in this program foster multidisciplinary studies among various schools and departments, enable motivated students to pursue degrees in specialized or new fields, and encourage them to pursue research interests.Possible courses range from a variety of disciplines focusing on social, cultural, economic and political areas of international importance in our increasingly globalized society.
Please view the links below for more information regarding the BA degree in International Studies.
Undergraduate Brochure for International Studies Majors
Snapshot of BA Degree: INTL (120 credit hours)
For more information regarding the INTL program and degree please contact: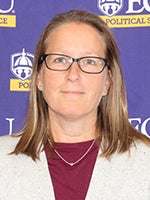 Marie Olson Lounsbery
Professor
Political Science
Mail Stop: 564
Brewster A-115