Dr. Samantha Mosier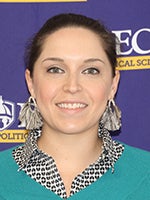 Title:
Assistant Professor, Ph.D. (Colorado State University)
Office:
Brewster A-136
Office Phone:
(252) 737-5575
Fax:
(252) 328-4134
Email Address:
mosiers18@ecu.edu
Teaching Areas:
Public Policy, Public Administration
Research Interests:
Food and Agriculture Policy and Administration, University-Community Partnerships, Sustainability and Resiliency
---
Samantha L. Mosier teaches courses on public policy, public administration, and leadership and ethics. Her research focuses on sustainable agriculture, food labeling, university-community partnerships for sustainability, and local sustainability and resilience initiatives. Dr. Mosier is author of Creating Organic Standards in U.S. States: The Diffusion of State Organic Food and Agriculture Legislation and co-author of Performance Measurement in Sustainability Programs: Lessons from American Cities. Her work has also appeared in Environment and Planning C, Environmental Management, Food Policy, and Environmental Issues Today: Choices and Challenges.
Dr. Mosier's Online Materials
Curriculum Vitae