Dr. Jonathan Morris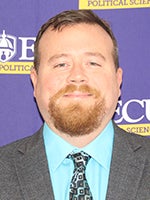 Title:
Professor, Ph.D. (Purdue University)
Office:
Brewster A-121
Office Phone:
(252) 328-1067
Fax:
(252) 328-4134
Email Address:
morrisj@ecu.edu
Teaching Areas:
American Politics – Political Communication, Political Behavior, Institutions, Quantitative Methods
Research Interests:
Political Communication, Public Opinion, U.S. Congress
Courses Taught:
POLS 1010: American National Government; POLS 4310: The Mass Media and Public Policy; PADM 6230: Quantitative Methods in Public Administration; POLS 3031: Research Methods in Political Science; PADM 6900: Professional Paper Seminar
---
Dr. Jonathan S. Morris (Ph.D., Purdue University) is professor of political science at East Carolina University. His research focuses on the media and politics, including political humor, cable news, and political communication on social media. He is co-author of Politics is a Joke! How TV Comedians are Remaking Political Life, and has published in several journals, including Political Research Quarterly, Public Opinion Quarterly, Legislative Studies Quarterly, and Political Behavior, Social Science Quarterly, Political Communication, and Sociological Forum.