Dr. Casey Fleming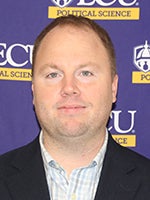 Title:
Assistant Professor, Ph.D. (North Carolina State University)
Office:
Brewster A-134
Office Phone:
(252) 328-1063
Fax:
(252) 328-4134
Email Address:
flemingca17@ecu.edu
Teaching Areas:
Public and Nonprofit Management; Administrative Ethics; Organization Theory and Behavior
Research Interests:
Effective Bureaucracy; Organization Behavior; Interorganizational Relationships
---
Dr. Casey Fleming teaches graduate courses in public administration. His current research interests include workplace rules and prosocial rule breaking; the effects of bureaucratization on public employee behavior and attitudes; and county-city partnerships. He earned a Ph.D. in public administration from North Carolina State University in 2016 following ten years of professional service in state and local government.
Dr. Fleming's Online Materials
Curriculum Vitae (PDF)