Dr. Thomas Eamon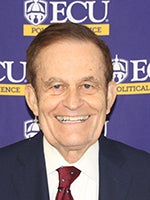 Title:
Associate Professor, Ph.D. (University of North Carolina)
Office:
Brewster A-130
Office Phone:
(252) 328-1061
Fax:
(252) 328-4134
Email Address:
eamont@ecu.edu
Teaching Areas:
Southern Politics, Black and Minority Politics, Urban Politics, Political Parties
Research Interests:
Southern Politics, Elections
---
Dr. Thomas Eamon is a native of Kinston NC, Graduate of Durham High School, BA University of the South (Sewanee), and MA and PhD from UNC-Chapel Hill. Book, The Making of a Southern Democracy: North Carolina Politics from Kerr Scott to Pat Mc Crory, UNC Press, 2014. Frequent speaker and interviewee on US, Southern, and North Carolina politics. Consistently high teaching evaluations from beginning of career to now. Winner of Mays Award for Teaching Excellence Award (highest award given by university at that time) Twice a finalist for Board of Governors Teaching Excellence Award.
My passion is teaching, both for the subject matter and the mentoring role.
Dr. Eamon's Online Materials
Curriculum Vitae
Syllabus, POLS 1010: American National Government (PDF)
Syllabus, POLS 3244: North Carolina Politics, Government and Public Policy (PDF)
Syllabus, POLS 3035: American Political parties & Politics (PDF)