Dr. Alethia Cook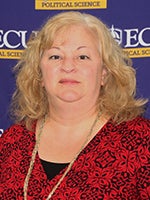 Title:
Professor & Department Chair  (Ph.D., Kent State University)
Office:
Brewster A-125
Office Phone:
(252) 328-5869
Fax:
(252) 328-4134
Email Address:
Cooka@ecu.edu
Teaching Areas:
Security Studies and International Relations
Research Interests:
Homeland and International Security, Emergency Response to Terrorism and Weapons of Mass Destruction
---
Dr. Alethia Cook is an Associate Professor and Chair of the Department of Political Science. Her current research interests include the policy challenges posed by different categories of weapons of mass destruction; terrorism; pandemic disease; civil conflict dynamics and the factors that influence them; emergency response to catastrophic disasters; technologies and (in)security; and other homeland and international security issues.
Dr. Cook teaches classes in the Security Studies program, including Introduction to Security Studies, Security Studies Foundations, Weapons of Mass Destruction, and Politics of Terrorism. She earned her PhD in Public Policy with a focus on American foreign and defense policies at Kent State University in 2006.