Mrs. Dri-Zonda Brown-Smith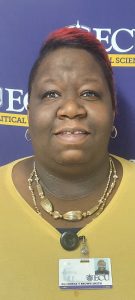 Title:
Administrative Assistant
Office:
Brewster A-129
Office Phone:
(252) 328-1055
Fax:
(252) 328-4134
Email Address:
brownsmithd17@ecu.edu
---
Mrs. Dri-Zonda Brown-Smith is a native of Greenville, NC where she was born, raised and attended the area schools. Dri-Zonda is married and the awesome mother of one . She is an active member of her local church where she servers as the Event Coordinator and Youth Leader. She enjoys reading and spending time with her family when she's not working.