Dr. Jody Baumgartner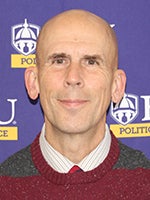 Title:
Undergraduate Director, THCAS Distinguished Professor, Ph.D. (Miami University, OH)
Office:
Brewster A-114
Office Phone:
(252) 328-2843
Fax:
(252) 328-4134
Email Address: BAUMGARTNERJO@ecu.edu
Teaching Areas:
American and Comparative Politics
Research Interests:
Humor and Politics, The Vice Presidency, Campaigns and Elections
---
Dr. Jody Baumgartner is the Thomas Harriot College of Arts and Sciences Distinguished Professor of political science at East Carolina University. He received his Ph.D. in political science from Miami University in 1998 and came to ECU in 2003. He has authored or edited 11 books and numerous journal articles, and book chapters, either individually or in collaboration with others, on political humor, the vice presidency, and other subjects.
Dr. Baumgartner's Online Materials
Dr. Baumgartner's Web Site
Dr. Baumgartner's Curriculum Vitae